Posts: 2286
Joined: Fri Aug 12, 2016 8:47 am
Has thanked: 21 times
Been thanked: 315 times
"In the land of the blind the one eyed man is king"
---
fountainhall
Jakarta's move is going to cost a minimum of US$32.7 billion and only around 1.5 million people will be relocated. That will still leave Jakarta sinking at a rate of around 25 cms per year and is unlikely to stop the flood of people from the country in to the city, despite all the flooding.

If the Thai government wants to move to the outskirts, I cannot see it doing anything for either traffic or flooding. If it wants the new capital to be near Bangkok, I also can't see anywhere nearby where it can be constructed on higher ground. It would have to be east of Sara Buri or west close to the Myanmar border. At least Bangkok is only sinking at about about 10% of the rate of Jakarta.
---
Posts: 11
Joined: Sun Aug 25, 2019 2:14 pm
Been thanked: 4 times
What about moving the capital to Munich?
---
fountainhall

wrote:

↑

Fri Sep 20, 2019 10:37 pm

At least Bangkok is only sinking at about about 10% of the rate of Jakarta.
I believe Thailand took effective action to stop or restrict groundwater extraction in Bangkok. Indonesia has not got it's act together to this level.
You would think Thailand could do a lot more to protect Bangkok in its current location, however if worst case sea level rises occur, they would need some high walls.
Some basic legislation to ensure all new developments can cope with (say) a 1~1.5m sea level rise would be a good start.
The Thai PM listed a couple of options to deal with congestion, or more accurately move away from it. Clearly he hasn't considered the congestion charging model, as used effectively in Singapore or London. The contrast between London at 17:30 on a weekday and Bangkok is very noticeable. In the London financial district, the roads are relatively clear, the air is cleaner and everyone is walking down wide pavements to the nearest underground station. In Bangkok, they have complete gridlock, with cars going nowhere & severe pollution. The pavements are too narrow to carry a large volume of pedestrians and they fail to even run maximum length Skytrains on to match demand. Perhaps the PM should go and visit a few other countries for benchmarking.
It's not difficult:
Implement congestion charging. Convert all those 3 lane roads in Bangkok to 2 lanes and add wide cycle and pedestrian lanes. Enforce parking restrictions so people do not park scooters here. Add capacity to the rail systems. Make some streets pedestrian only.
KeithAmbrose

wrote:

↑

Sat Sep 21, 2019 4:44 pm

What about moving the capital to Munich?
Careful...... !
---
Posts: 1477
Joined: Sat Jul 31, 2010 9:26 pm
Location: Bangkok Sathorn
Has thanked: 303 times
Been thanked: 22 times
Contact:
They should study Brasilia, Naypyitaw and others carefully.
There were plans to move the capital to Lom Sak in 1944. Quote from
http://www.thailand-blogs.com/2015/06/0 ... f-lom-sak/
(offline and not on archive, but I have a copy on my harddrive)
Tham Sombat is much more than a typical Thai cave temple since in 1944 it was chosen as the home for the Thai Treasury asthe entrance to the cave temple at Tham Sombat the then Prime Minister Field Marshal Plaek Phibunsongkhram(Philbun) sought to distance himself from the Japanese occupiers of Thailand and find a more secure location than the capital Bangkok which at the time was subject to Allied bombing.

Indeed Philbun had a grandiose plan to move the Thai capital from Bangkok to the province of Phetchabun where Tham Sombat is located since he considered it a more secure location than Bangkok surrounded as it is by mountains on three sides. The law to change the provincial authority of Phetchabun to a metropolitan one, outlined in Nakhonban Phetchabun Administrative Emergency Decree B.E. 2487 (1944), was not approved by the Thai parliament and this subsequently led to Philbun leaving office.

However this was not before the Thai Treasury, Education Ministry and Army HQ had actually moved to Phetchabun in the the sala Thai containing the city pillar Lom Sakarea of Tham Sombat. They subsequently returned to Bangkok after Philbun's removal from office.

Philbun's many achievements are celebrated locally in the architecture of the City Pillar of Lom Sak, which is not far from Tham Sombat but a good distance from Lom Sak itself. The centre piece of the pillar was laid by Philbun in 1944.
I posted my thoughts about the sinking of Bangkok here:
https://christianpfc.blogspot.com/2017/ ... nking.html
---
fountainhall
Not sure when this started but clearly it did little to stop the massive flooding in the autumn of 2011. That was a result not only of rising tides - these are not unusual at the peak tide period around October when the water volume coming up the Chao Phraya is considerably increased. Bangkok already has some locks which can be closed to stop water spilling into city klongs and some banks of the river have been raised. But that does not stop riverside residences and hotels from requiring sandbags for further protection. I can recall when the Shangri La hotel had sandbags not only along the riverside but also around the main pool!
The problem in 2011 was the combination of the high tides along with a massive volume of water flooding downwards as a result of much higher than usual rainfall in the north. There was extensive flooding from Ayutthaya south with Don Mueang airport under water. Thankfully new flood defences have been erected around the airport. I have a Thai friend whose house was flooded with more than a meter of water for more than two months. One bright spark Minister had the bright idea of forming a bridge of longtail boats strung across the river with their engines at full blast to push the water back up and away from the city! Madness!
But there is no way to predict when this level of flooding might recur.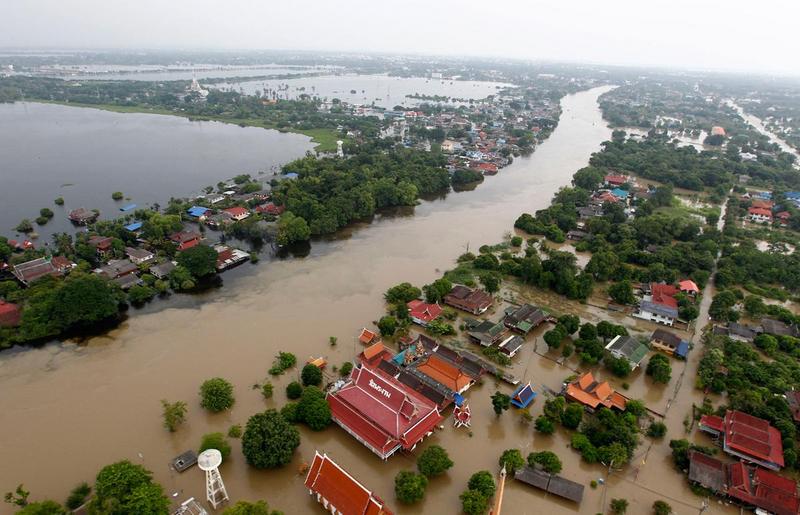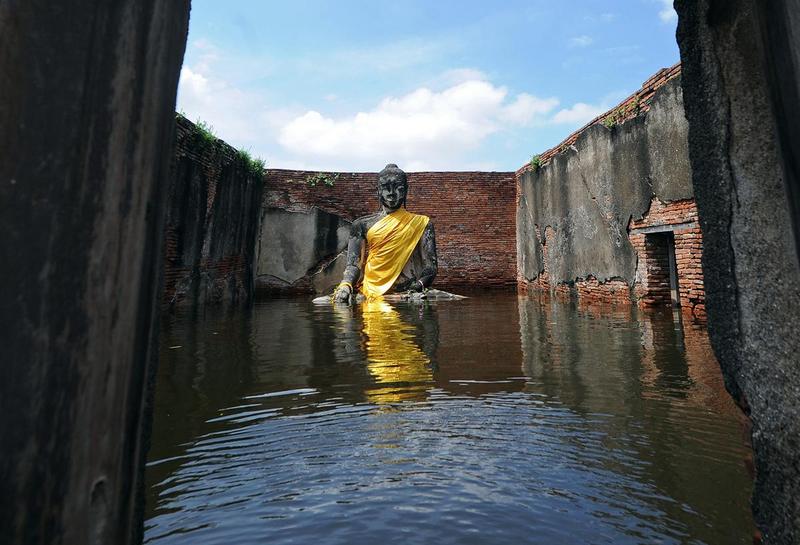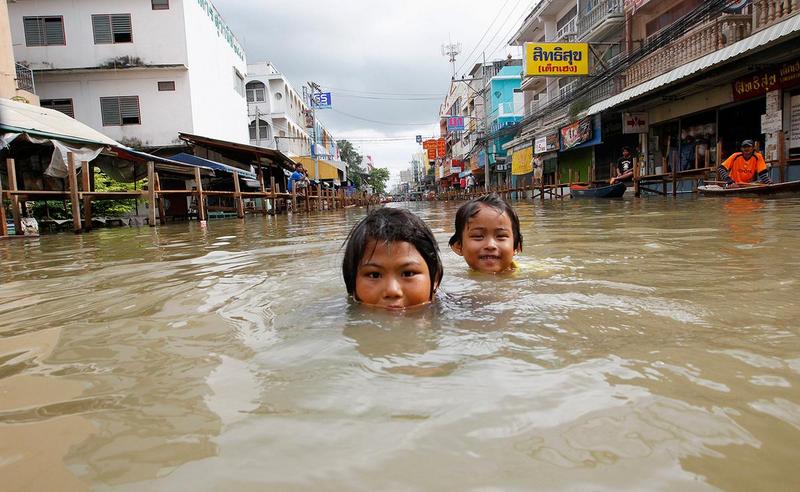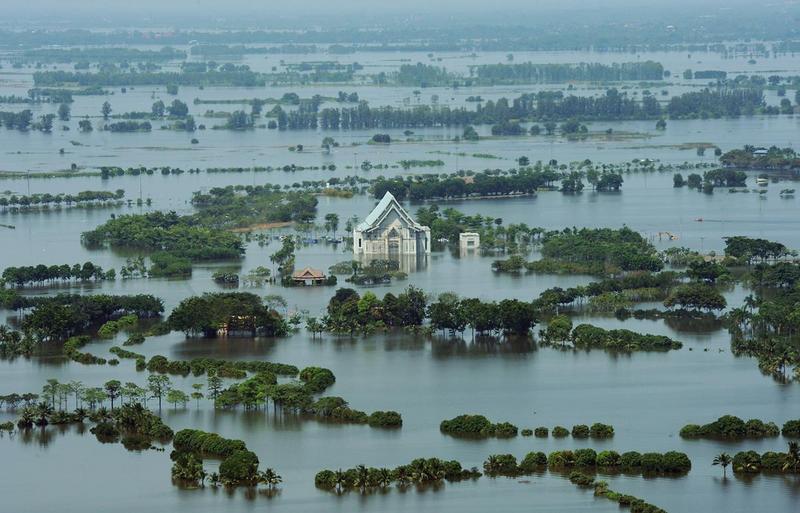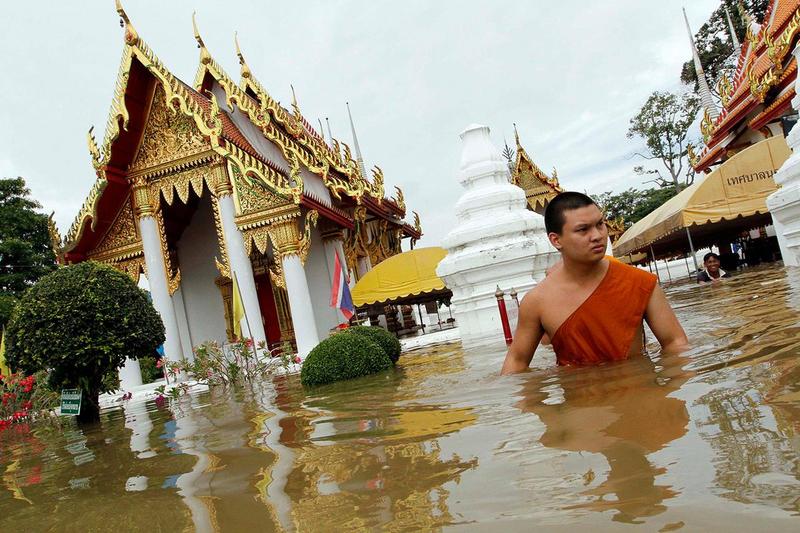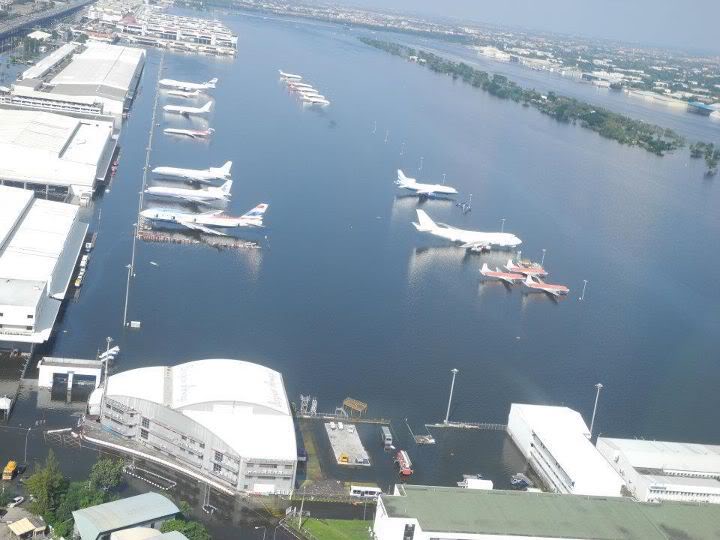 Photographs: Reuters/Sukree Sukplang; Christophe Archambault/AFP/Getty Images; Pornchai Kittiwongsakul/AFP/Getty Images
---
fountainhall

wrote:

↑

Sun Sep 22, 2019 2:07 pm

Not sure when this started but clearly it did little to stop the massive flooding in the autumn of 2011.
The point I was making it that Jakarta is sinking so much faster than Bangkok due to groundwater extraction. Indonesia has done little to stop the groundwater extraction. For any given flooding scenario, reducing ground altitude makes the problem worse.
Bangkok took action from the 1980s......
"In 1983, through the government's cabinet resolution, titled the Mitigation of Groundwater Crisis and Land Subsidence in Bangkok Metropolis, the program to phase out the MWA's use of deep wells was initiated, which targeted total abandonment of MWA wells by 1987 (Babel and Das Gupta 2005). This goal was not achieved as planned, however, but groundwater abstraction was reduced considerably nevertheless. From 500,000 m3/d in 1981, groundwater use by the MWA went down to 62,000 m3/d in 1990 to only 6,502 m3/d in
2003, and further to 589 m3/d in 2004."
https://www.google.com/url?sa=t&rct=j&q ... -tKAiGd1Um
Obviously if a city is sinking due to groundwater extraction AND sea levels are rising, then there are two major contributors to the flooding problem.
Bangkok apparently has one of them under control and Jakarta does not. Doing nothing to stop groundwater extraction and moving away from the problem seems like poor governance.
After that, they need to look at mitigating risks from rising sea levels. In the 2011 Bangkok case, I thought high river levels were an issue, so building an upstream reservoir would be an obvious solution.
---