It appears that Hong Kong's Courts are gradually chipping away at the government's oft-stated position that the Hong Kong community will not approve of greater LGBT rights.
Today in the Court of Final Appeal, a gay civil servant, Angus Leung Chun-kwong, won his appeal. The government must now grant him and his partner, Scott Adams, whom he married in New Zealand five years ago spousal benefits and joint tax assessment.
The ruling came just days after a separate case in which the Court of First Instance sided with a gay activist and struck down or revised seven criminal offences discriminatory against homosexual men.

Last year, the top court also backed an expatriate lesbian in recognising her overseas marriage for the purpose of getting a spousal visa.
In its unanimous judgment, the Court agreed that the government had a legitimate aim to protect the institution of marriage.
"However, the court rejected the prevailing views of the community on marriage as a relevant consideration since reliance on the absence of a majority consensus as a reason for rejecting a minority's claim is inimical in principle to fundamental rights," the judges wrote.

. . . They criticised the government for resorting to a "circular logic", by saying that Leung should not be granted the rights just because his marriage is not recognised in Hong Kong. That was no explanation, they said, for why there are such differential treatments based on sexual orientation.
A small step forward – but at least it's a positive one
The couple leaving the Court.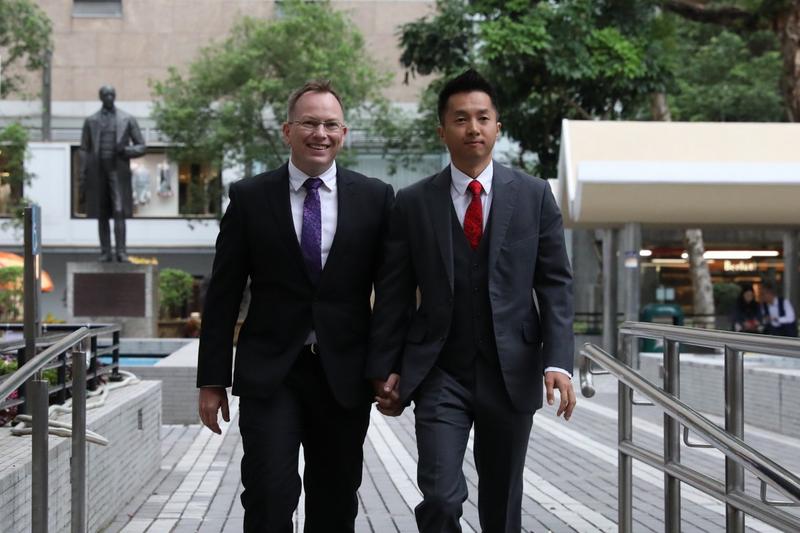 Photo: Nora Tam/SCMP
https://www.scmp.com/news/hong-kong/law ... l-benefits